With this year only being the second full year I've watched American Idol, I can't judge on how the first four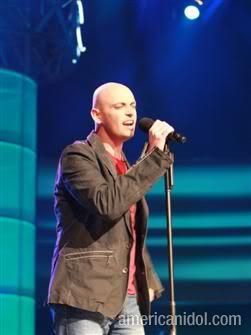 seasons were like, but I have a feeling they started out a little better than this one. The guys end of the performances were not so great, maybe two or three that were good, but nothing spectacular. I thought there was some great potiental too, Sonjaya was the biggest let down. You could tell he was about to piss his pants. Sundance really stunk up the place, and Chris Sligh got into it with Simon, and its only the first week! The few performances I did like were Blake Lewis and Phil Stacey. Blake did well with a tough song by Keane, "Somewhere Only We Know" and pulled out a good performance, but nothing spectacular. Phil started off really bland with Edwin McCain "I Could Not Ask For More" but really put together a nice vocal performance once the chorus and bridge came around. Other than that, they were all just OK. Jared Cotter attempted Brian McKnight, and didn't do terrible, but I think he has a rich, smooth voice, and if he continues to pick good songs, he could go far. My early favorite, Chris Sligh, did not really impress me that much. The song choice was fun to perform, but I don't think the overall performance was the best of the guys' group. My picks to go home this week will have to be Sundance Head and Chris Richardson.
The gals, on the other hand, totally rocked the house big time. Much more exciting performances overall from the ladies than that of the men. Stephanie Edwards got things started off on the right foot, and most of the remaining ladies followed. Definitely the best performance, and everyone can agree, was from Lakisha Jones. She let it all out, and I dou
bt there is anything she couldn't sing. Melinda Doolittle also did extremely well, proving attitude isn't the end all be all. A word of advice to the ladies; no Celine Dion PLEASE! Sappy, slow, and heart-wrenching songs do not appeal to a lot of your viewers. Especially me. Pick a song to have fun with and give energy through, not to just stand behind the mic and force out notes, which is what a few of the girls tried to do, even with upbeat songs. My favorite girl now is definitely Leslie Hunt. Not only does she have a unique attractiveness to her, she has a darn good voice, and "Natural Woman" fit real well. Unfortunately, two girls must leave the competition, and I am predicting that Haley Scarnato and Nicole Tranquillo will be those two. A couple of gorgeous ladies, but it didn't work for them on Wednesday.
Stay tuned after the results show where I will have my quick blurb on my reaction of the results and expectations for next week.