This past week has been wild in the world of sports. If you haven't been paying attention, I can't help you, but I can let you in on three stories that occurred the past few days that left an itch I can't scratch.
Juan Pablo Montoya Takes First Busch Series Victory in Mexico City
... but not without some criticism from his own teammate, Scott Pruett, whom Montoya collided with in the final laps of the Telcel-Motorola 200 in Mexico City. Pruett publicly expressed his disgust with his teammate's actions, calling his driving "lowdown, nasty, [and] dirty."
I have never raced in a circuit-format with high-powered cars, and I definitely do not understand the entire aspect of the sport, but from years of watching with my granddad as a kid, and having family who is into the sport, racing is not a cry-baby
event. Pruett whined about being spun by his own teammate on national TV, and in my opinion, he was more at fault that Montoya. Pruett went high into the turn, and Montoya shot low. Pruett came down sharp on the curve, while Montoya already established his position deep in the turn, therefore swiping the nose of Montoya's car, and spinning backwards, while Montoya bounced back outside and off the track to avoid further contact. After watching the final 20 laps, as Montoya bounced from mid-way through the field to the top 5, I was certain he would take the victory. With 8 to go, Montoya was on a war path to take first from teammate Pruett. He had the fastest car on the track, and he knew how to handle it on the road course. Montoya was driving to win, Pruett was driving to win, and unfortunately for Pruett, he ended up being spun.
I don't know Pruett as a racer, because I don't watch too much NASCAR, but I am sure this will blow over in due time. They are both professionals and should handle this in that accordance.
But it gets worse ...
Artest Arrested on Charges of Domestic Violence; Excused from Sacramento
Boy, were my hopes in vai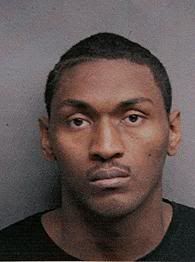 n when the Kings acquired him last January. Initially, he served really well as the defensive muscle, improving the Kings defense noticeably and boosting them into the playoffs as an eight seed. This year, however, hasn't gone as well. The Kings are 5 games under .500, and Ron Artest has already been accused of animal mistreatment in early February, now he takes it out on a woman. After watching the news ticket on ESPN News last night, I was in total disgust. The Kings have become the outlaw team of the NBA. They are working on the title of the Cincinnati Bengals of basketball. Head coach Erick Musselman (I guess that's the right spelling for this Erick, could care less) has already been cited
twice
this season for driving while intoxicated, and now Artest has been arrested, posted 50 stacks for bail, and excused from any further participation with the Sacramento Kings basketball organization until further notice. Geoff Petrie, Kings GM, made the announcement of Artest's unofficial suspension (Kings publicist says its not a suspension, he is still being paid) after hearing the news of the hopeful hero of Sacramento. The entire organization is now in total disarray, and I feel that not only is their season over, they need a total reconstruction of the organization.
Henderson Suspended after Intentional Foul on Hansbrough


I have all the respect in the world for Coach K and all the incredible things he
has done at Duke. But, as far as me liking the Duke organization (Maryland fan), it doesn't quite g
o as well. After I saw North Carolina's star big-man Tyler Hansbrough take a shot from Duke's Gerald Henderson, I found a bit more hate for Duke. You can say all you want that basketball is a contact sport, and collisions resulting in injuries occur, but that was not a collision. Henderson came down with an elbow on Hansbrough with intentions of making contact. He may have not wanted to b
reak his nose, but that's what all accused gunmen say, "I didn't want to kill him." I played basketball long enough to know there is contact, and I personally had my way with elbows coming down on heads, but never have I been in the situation as Henderson was to come down that hard with his elbow, and to hit another player in the face is a whole other aspect. I think his suspension served him right, this is not a UFC match, its a basketball game. I respect Hansbrough for not holding any harsh feelings tow
ards Henderson for the blow he took, and neither will I view Henderson any differently, but I am certain Henderson had every intention of striking Hansbrough on that play.

At the time of publishing this blog, I just watched the video of Kobe Bryant

again

flailing his arm after a shot, and

again

hitting an opposing player. This time he was called for the foul, and maybe this time he will learn his lesson. Basketball is a game of control, and Bryant doesn't appear to have much of it.