Saturday, February 17 2007
. Most of the population of the southern states, from Florida to Arkansas will remember this date for a variety of reasons. If, however, you are outside the threshold of the great south, don't feel left out; I will walk through a Saturday that will make, break, or just flat out kill an athletic program.
Let's begin with ...
Frank Broyles to Retire at Arkansas
Basically, Broyle
s is gone. After a half-century at Arkansas in one form another, whether it had been
coac
hing
the late great Jerry Jones, owner of the Dallas Cowboys (no wonder they operate their programs identically ...), or hiring coaches such as Lou Holtz, Jimmy Johnson, Eddie Sutton, and Nolan Richardson as the athletic director. Despite Broyles' much famed success as a coach and an AD, he has been heavily criticized by the Arkansas fan base over the past few years over the lack of success with the football program, along with head football coach Houston Nutt. Following Arkansas' breakout performance in the 2006 season, winning ten consecutive games after falling to Southern California the first game of the season, the SEC West title, and a New Year's Day bowl game, the state of Arkansas still were not happy. The drama surrounding the departure of offensive coordinator Gus Malzahn, and the probable departure of highly-recruited quarter back Mitch Mustain wasn't handled as expected from the board of trustees and the fan base. Rumors early in the week suggested Broyles had until Saturday to state his resignation or will be forced from the school by the board. Too many Arkansans, this is the greatest news since Nolan Richardson was fired (but we all see how well that decision fared). Broyles' retirement will take effect at the end of the 2007 calendar year.
Frank Broyles is a member of the College Football Hall of Fame. Broyles assistances while a head coach went on to win a combined 40 conference titles, 5 National Championships and 5 Super Bowls.
Number 1 Ranked Florida Tossed by Vanderbilt in Nashville
Florida came into Saturday's game a perfect 11-0 in Southeastern Conference play and riding the nation's longest win-streak at 17. Obviously, the team already penciled in win number 12 and add one to the win streak before stepping on the court. Florida played from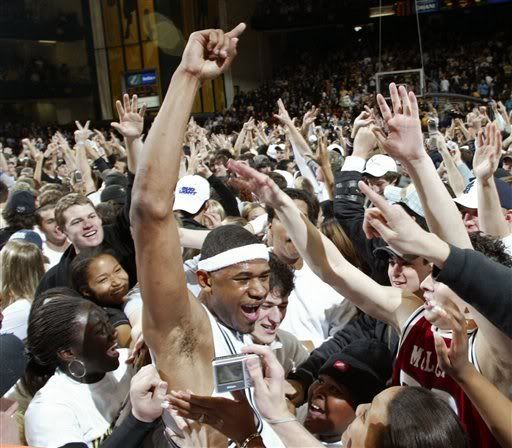 behind the entire game, their biggest lead of only 5 points 5 minutes into the game. Florida's lack of support from its starting five, all of which who average double digits on the season, along with Vandy's outstanding guard play from Byars and Foster (24 points a piece) spelled out Florida's first SEC lost of the season, and on the road in a surprisingly tough arena to play in, especially carrying the number one ranking in the nation. A stat that really stuck out to me was this: Noah only played 21 minutes and scored 15. Reserve center played 22 minutes and scored a mere 2 points. That might have not been the key stat in their loss, but ... Florida will have to have much more bench support if they are to make another Final Four or even a National Championship run (Florida's bench:52 minutes, 13 points). That also lies upon the shoulders of the starters to stay out of foul trouble, which is what tagged Noah. Florida's season is long from over, of course. But, the loss today definately pointed out that this team
is
human. They can be stopped. And it doesn't necessarily have to be a power house team that has to do it (since the 2000 Finals loss, Florida did not make it to the Sweet 16 once until their title run in 2006).
No jinx or anything, but, at the current pattern, it will be 2012 before Florida makes it past the Sweet 16 again.
Vanderbilt was the first t
eam to celebrate a victory over Florida in 2007; the Gators last loss - December 17, 2006 against in-state rival Florida State.
If you didn't get a picture of how big of impact this Saturday was for most of the south-east, then there is no other way to paint it. For Arkansas fans, this either means the beginning of the end, or the beginning to a new Arkansas Razorbacks. This is essentially like losing Jerry Jones or George Steinbrenner; American icons in sporting ownerships. His accomplishments aside, a majority of the Razorback nation is relieved Broyles will be nothing but history to Arkansas in the year coming. That is, unless he dies first.