So, college football is at its halfway point - but the good news is there is still nearly two months left, but we all know bowl season is so spread out, and several weeks after the final regular season/conference championship games, we aren't really halfway as far as time goes, just in games.
Either way, we still have top 15 matchups in the SEC into week 7 of the college football season. Arkansas at Auburn highlights this weeks SEC matchup, and the only other top 25 matchup of two teams is the Big 10 clash of #18 Wisconsin and #1 Ohio State. I'll do my best to break down both, starting with the Badgers hosting the nation's top team, the Buckeyes.
Wisconsin has flew under the radar this year, and quite frankly the past few years, simply because they don't have the marquee player or coach to propel them into the spotlight. That is probably a great thing for Wisconsin. Although they come in with a loss against still-unbeaten and highly inspired Michigan State (#13 this week), they still have hopes to win Big 10 title and possibly a BCS Championship, although we can't say for sure they are inline with the crazy BCS system. It does hinge on how they fare with the Buckeyes, and a win would surely help their cause, just as South Carolina's redemption game against then #1 Alabama after a tough loss against Auburn two weeks prior. Wisconsin has some bruisers for running backs, both approaching 10 TDs, averaging 6.0+ yards per carry, and could very well control the tempo of the game. I expect some Ohio State players on the defensive side needed a substitute midway through some drives.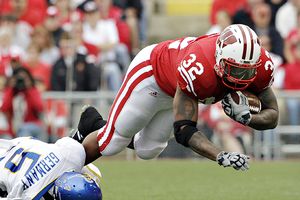 Wisconsin has a pretty good defense, ranking 3rd in the Big 10 behind Ohio State and Iowa in yards allowed per game. That comes against UNLV, San Jose State, Arizona State, Austin Peay, Michigan State, and Minnesota, and we can say the level of competition for Ohio State has been similiar, although their win over Miami (FL) was a good resume booster. Ohio State has done well against Indiana and Illinois, we will see how well each defense competes this weekend. I'd like to say Ohio State goes down, simply because we've seen a #1 team go down so often during the regular season in the past, but Ohio State finds ways to win, with Terrell Pryor, a great quarterback who has done nothing but get better, a great defense, a great coach, and simply because they are Ohio State - but not this week! Ohio State 23 Wisconsin 24 (not the lock of the year, sorry!)
Now, on to Arkansas-Auburn. Auburn comes in with a Heisman candidate, an undefeated record, and a #7 ranking. They've had close games in every game, save the cupcakes Arkansas State and Louisiana-Monroe, and we've only seen the defense dominate a few of their games overall, mainly the Mississippi State game. Cam Newton, Auburn's offensive lineman who plays quarterback, has been impressive. He has remained the second-highest rated passer in the country, simply because he doesn't throw that often, and when he does, the receivers go for touchdowns quite a bit. Nick Fairley, the Tigers' defensive tackle who actually plays defensive tackle, has been lighting up running backs, including Marcus Lattimore, who happened to stomp over the Tide last week. Although the defensive unit is suspect, there are plenty of play makers. The offense is where this team shines, especially running the ball. They have continually progressed on the offensive side of the ball so far this year, and as long as the defense can keep the big plays and long drives to a minimum, Arkansas can be beat.
Arkansas, nearly an opposite team, has been playing improved defense all year, yet their offense has sputtered, even with the conference's best quarterback, Ryan Mallet. However, his three INTs against Alabama doomed their chances, and he has yet to put together a perfect game, which is what a lot of analysts expected of him this year. Over the entire year, his numbers look great, but he can't allow for bad passes or turnovers against Auburn, because they can take the ball down the field at will, read the South Carolina game where two late USC turnovers led to an Auburn win. Auburn will have to play their best defense this year, regardless of how well the Arkansas offense plays, in order to keep their defense off the field and put it in the hands of Cam Newton and their squadron of running backs. This could get ugly late, depending on who's defense steps up. I am leaning towards the Tigers. Arkansas 27 Auburn 38
I've failed miserable of posting a rankings of these college teams, since I thought Texas was a #3 team, and they lost back-to-back. I'll just say Nebraska
is
a top 5 team, better than Oklahoma, TCU, Boise State, and possibly Oregon. TCU and Boise State will just have to run their tables and hope for the best when it comes to the rest of the top 10 teams.
There are 5 teams that could finish the season undefeated. Ohio State, Boise State, Texas Christian, Oregon, and Nebraska. Can we expect a 1-loss SEC champion to face one of these teams, or will the BCS actually pick two of the top 5 teams?

What if Michigan State and Ohio State both finish undefeated? Co-Big 10 champions playing in a BCS title game?

For the first time in three years, the SEC championship will not be between two undefeated teams, and may not even feature one undefeated team, nor a #1 or #2 team.