The NBA Playoffs are back again for its annual run - this year, in my opinion, can be some of the best NBA basketball we have seen in quite a while. While the Western Conference was separated by 7 games, from LA Lakers' 57 wins to Denver's 50, and the resurgence of the Celtics, winning an NBA best 66 games, marking the greatest turnaround from a season ago, where they held the worst record in the NBA. With the Pistons' 59 wins and Orlando's 52, there were 5 teams in the Eastern Conference with less than 50 wins, including three with .500 or worse records; Toronto, Philadelphia, and Atlanta. The 9th, 10th, and 11th place teams in the West would have made the playoffs if this were a top-16 team playoff team - rather than conference based. The parity is weird in the NBA, where there are two teams from the East in their own Echelon, while all eight of the Western conference playoff teams AND the last team out (Golden State) have better records than the fourth seeded Cleveland. Although the West, team for team, is far and beyond the best conference, they may not have a team strong enough to topple Boston, or Detroit for that matter, in the Finals, considering one of the East's top two teams are in the Finals. The defending Eastern Conference champions are looking ugly, even with the the additions of Delonte, Wally, and Big Ben, they just scrapped by Washington to have home court advantage in the first round. The East could be just as interesting as the West, in that the 4-5 and 3-6 matchups could
easily
go either way. As for Boston v Atlanta, it will be more intriguing than some may think. Mike Bibby and Joe Johnson can cause trouble offensively for the Celts, although Boston touts the best D in the league. Detroit v Philly is also a peculiar matchup, considering the last time these two met in the playoffs, it was a 2003 2nd round matchup after Detroit pulled off a 3-1 comeback as a 1-seed to topple Orlando, then took Philly in 6. Although the Iverson-less Sixers are one of the two sub-.500 teams, they could exploit Detroit's post-season diseases they suffer from as of late. Running down the board for the rest of the East:
3 - Orlando
vs.
6 - Toronto
Toronto could have and should have taken great strides to contend for the Easter Conference crown, but they finished .500, which is more than enough for the East. Orlando has looked impressive in
wins against Detroit and Boston all year, but the losses they suffer against the likes of New York, Memphis, and Charlotte are questionable, although the Magic rarely got outscored (+5.5 margin was 5th best in NBA). However, their biggest loss of the season came against Toronto (17 points), where Bosh dropped 40 points on Dwight Howard and Jose Calderon dished out 13 dimes. Dwight Howard? Oh nothing ... 37 and 15. Although that was the only loss of the season against Toronto out of three meetings, Van Gundy will have to press Howard into keeping Bosh out of the scoring lane and out-rebound Toronto, just as they did all season. If Orlando has Turkoglu, Nelson, Lewis and Howard putting up their averages, they would have 90-96 points each game, 40 boards and 20 assists. That is hard for an opposing offense to match. But Orlando has played very tight all season, although having some big wins, only winning or losing games by a few points. They allow 41.7 boards a game, while grabbing 42. They allow 99 points, and score 105. They allow more steals and assists per game as well. With Calderon and Park in the back court, the Raptors can get 7 steals a game. If Orlando gives them up, that is a potential 14 point turnaround, which the Magic cannot afford by the way they play close. Unless they can grind out with Bosh and win, they have to play fast and uptempo, get Dwight Howard in the 30's with at least 12 boards, and Rashard Lewis has to contribute, else the Magic will not have enough to keep up with Toronto. Magic should take this in 6, but we could see 7 depending on Lewis's and Bosh's perfomance.
4 - Cleveland
vs.
5 - Washington
It took quite a few tries for Chicago to get out of the first round, but they had brute strength against Miami's gimped up 5, they were able to sweep the defending champions in 2007. Washington has faced Cleveland in three straight years, and lost three straight series. Washington is in prime position to take their first playoff series win since the Cleveland curse. This season, Arenas was not the hibachi, sitting out with injury, and Caron Butler was out nearly as much as Arenas. That left the load on Antawn Jamison and a young team that managed their way through the East with a 5 seed. With Butler and Arenas back in time for the playoffs, we could see the Wizards take a fast lane pass against Cleveland for the first time. The main concerns, however, are the Cavs best player - a kid named LeBron James. The MVP-candidate has carried this team quite well, but LeBron will have to get some production from their other scorers.
The Western Conference is so evenly spread, the team who proves they can stand the test of the playoffs will either be strong enough to take down Detroit or Boston, or too fatigued. The West also has a player who has been to the playoffs
every year
he has played in the NBA - Robert Horry (92-08). And a player who has started in every
playoff game
he's played in for 14 straight years - Shaquille O'Neal (198 from 94-08). And... they play one another in the first round, as part of the Spurs v Suns matchup, also being the most intriguing. This could easily be the Suns winning, since there was just a single game between the two in the standings. There are no givens in the West, so I will have to take a brief look at the both.
1 - Los Angeles
vs.
8 - Denver Nuggets
Not many fans think the Nuggets are a NBA Championship-caliber team. However, they do
bring quite a bit to the table - Allen Iverson, former scoring champion, NBA Finals appearance - Carmello Anthony, Kenyon Martin, Marcus Camby, who offer a great presence to the paint, Mello's ability to drive, shoot, and rebound, Martin's low post offense, and Camby's defense and rebounding, there should be no reason why they can dominate the boards against LA. LA, however, has the bodies to grab rebounds, including Kobe, Pau, Turiaf, and Bynum. Look to see how the Lakers handle AI, whether or not they put Kobe on him or Carmello. Either case, the defensive help will need to be solid behind the solid Bryant against AI and Mello. There should not be too much doubting the Lakers this year, and I see them moving on in 6.
2 - New Orleans
vs.
7 - Dallas
Chris Paul is the MVP - hands down. He has better numbers than either of Steve Nash's two MVP seasons, and has completely flipped the Hornets from a last-out 9 or 10 finisher to a legitimate championship team, and having the 2 seed in the West is testament. The Hornets, however, are inexperienced as a team. Peja is the playoff veteran, but with only two seasons in New Orleans, it will be hard to have him established as the leader, as he is not that type of player. Also, he hasn't had the best perfomances in the playoffs as of late, only getting 11 in his last appearance in Indiana. He has 20+ point playoff runs with Sacramento, but is known to miss big shots, i.e. game 7 of the Conference Finals in 2002. Dallas, however, has been an entire team meltdown in the past three playoff seasons, failing to win in Dallas after beating Phoenix in game 2 in the desert, eventually losing the series 4-2, giving up 4 consecutive wins to the Heat in the Finals of 06 and getting waxed in Oakland in 07 against the Warriors. Now, after two seasons as the top of the Western standings, they are unable to get anything higher than 7. Although New Orleans is a tough matchup, Dallas
could
pull the series win off, but another disappointing end is sure to appear. New Orleans in 5.
4 - Utah
vs.
5 - Houston
Rematch of last years first round matchup. Oh, and Utah was 4 and Houston was 5 then too. And Houston has home-court too. That proved to be a let-down, as they could not beat Utah at Salt Lake City. And considering Utah's league best 37-4 home record, don't count on winning in Utah. So, if Houston takes it back to Houston tied 3-3, they would be in the same position as they were last year - this year without Yao. Houston has a resurgence, thanks to a 22-game win-streak, second-longest in the history. Houston will need all the elements from that win streak - solid play from the PG position, T-mac putting up solid numbers on a consistent b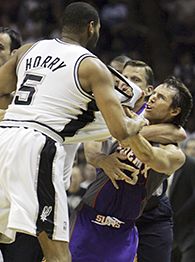 asis, and great defense from Landry, Battier, and Mutombo. Utah plays too consistent to let Houston win, but I see this at least going 6, Utah winning.
3 - San Antonio
vs.
6 - Phoenix
Phoenix is in trouble with this San Antonio squad. The Suns have the mindset they are the better team, and they are favored. The Spurs are defending NBA champions, and even with Shaquille O'Neal, I still don't see the Suns winning this series, which requires a road win in San Antonio, where the Spurs rarely lose. Short and sweet write-up, just like the series: Spurs in 5.
*Since the Comback Player and Coach were already announced before publication, I will simply declare the MVP and Defensive Player honors.
MVP: Chris Paul
- 37.6 minutes/game
- 48.8% FG
- 36.9% 3-point
- 85.1% FT
- 21.1 points/game
- 11.6 assists/game

Steve Nash averaged 15 pts/11 asts and 18/10 in his two MVP seasons. Scoring over 20 a game, over 4 for assist:turnover ratio, and leading league in assists with over 11 is my MVP vote-worthy. Kobe could get it though, the whole best player best team rationale. To me, there are a lot of writers, owners, whoever votes, that wants Kobe to win one at least. Paul will have his chances, but this is my vote.

DPY: Josh Smith

I would be voting for Camby here, since he was the block leader this season, but after seeing the interesting stat on the four letter network: "Most Blocks Before 22 Years of Age" - Josh Smith, which eclipses Shaq and Dwight Howard. He also averages 18 points and just under 9 rebounds a game. There will be a lot of votes for Camby, and he will probably win, but Smith is a beast, and after watching him against Boston in Game 4 and seeing his stats as a young man on a young team, I'd be hard pressed to vote against him.