The NBA Playoffs are amongst us! Only one night remaining in the regular season, and the Western Conference needs this night to decide its eighth and final seed. The Eastern Conference, however, is already set. Here is what the playoff picture is looking like, and few comments from me to go along with it.
* denotes seeding is clinched
(1) Detroit Pistons *

(8) Orlando Magic

Its been a few years since the Magic have been to the playoffs, and their last visit wasn't so pleasant. Up 3-1 over the top-seeded Pistons, Tracey McGrady guaranteed the Magic were moving on. 3 games later, the Pistons were in the second round. Since then, its been a rough ride for Orlando, but they have finally landed back in the playoffs, even if its the 8-seed playing against Detroit. Dwight Howard has dominated down low this season against the Pistons, averaging 20 point and 16 boards in 4 games, all losses however. Orlando will need a lot more help if they are to dethrone the top seed. Orlando steals a game, but thats it. Detroit in 5.
(2) Chicago Bulls
(7) Washington Wizards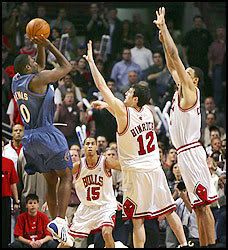 The last time these two teams met in the playoffs were in 2005. Chicago, without most of what makes up their roster today, could not withstand Arenas or Hughes, and Washington won in 6. This year, Chicago comes in much more favored, looking to lock up a 2-seed, going against a Wizards team without Arenas (injury) or Hughes (traded) this time. Caron Butler is a doubtful, which will take out the top two scoring threats. The Wizards will need far more support from their bench than they can account for, and Chicago should clean house. Chicago in 4.



(3) Toronto Raptors *
(6) New Jersey Nets
These aren't your typical Raptors. You won't see a Vince Carter on this roster. What you will see is an excellent roster that could go a good ways in the playoffs. TJ Ford and Anthony Parker make for a good backcourt duo, and Morris Peterson complements Parker as an exceptional 3-point shooter and can attack the basket. Chris Bosh is one the league's top forwards today, and Andrea Bargnani has lived up to his hype as a strong body down low. New Jersey does have the big three, Kidd, Jefferson, and Carter, but without a physical presence down low to stop Bosh, Barnani, and Nesterovich, it will be a tough series. New Jersey will play a good series, but it will be happy day in O' Canada! Toronto in 6.


(4) Miami Heat *
(5) Cleveland Cavaliers
If
Cleveland does indeed finish as the fifth seed (Wednesday night's games will decide), you can almost count on Miami advancing; considering the season Miami has had, losing O'Neal, Wade, Coach Riley, Williams, and Kapono to injuries, they still managed to overcome in the second half and take the Southeast Division title for the third straight year. The Diesel is in full gear, and Wade is showing great signs of healing, the Heat will be a handful to handle, especially without a dominant defensive post player, such as Ben Wallace. LeBron will be the key if the Cavs look to take down the defending champs. He will need to score and get the whole floor involved, else Miami will make it look easy.
Miami in 6
.
In the case that both Cleveland and Chicago win in Wednesday night's games, Chicago would own the tie-breaker with more division wins (12-4) than Cleveland (9-6), thus securing the 2-seed. For Cleveland's sake, at least for the first round, they will need to win and Chicago to lose to get the 2-seed and face Washington, again. Either way, there is not a road to the conference finals that doesn't go through Miami for the Cavs.
Due tomorrow ... the Western Conference breakdowns and any revisions that need to be made in match-ups listed here.